I85Cyber.org community member ALANOG(Alabama Network Operators Group) recently held its inaugural event at the conferencing facilities of Coosa Valley Technologies in Talladega, AL.  The entire ALANOG membership would like to thank both Coosa Valley Technologies and the Coosa Valley Electric Cooperative for both the generosity and hospitality they offered as hosts of our event.
Network operators from across the entire State of Alabama were in attendance and had an opportunity to meet, network and discuss various ways in which each of them and their respective organizations could be of assistance to one another.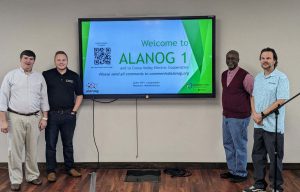 During the inaugural event a series of informative workshop presentation were conducted where the morning speakers included
Details from each of the day's presentations can be found below.
Presentation A – From IT to ISP-My Journey to MPLS Network (Presenter-Graham Wooden)
Presentation B – How We Got There – Our Next Generation IP Backbone (Presenter-Wesley Allen)
Presentation C – tmux – Necessary Tool For NetOps – Live Demo (Presenter Boyd Stephens)
The next ALANOG meeting is currently scheduled to convene in January 2024.  Please visit the alanog.org web-site for more details.