Tech/Creative Accelerator
Launch & Learn Labs Startup Accelerator involves two 13 weeks intensive "get your grind on" preparation sessions to help participants both launch or reorganize their startup business operations.
All Launch & Learn Labs Training Programs are in many ways "pandemic proof" and although our training methodologies heavily involve live instruction and personal engagement all efforts will be held in an 100% virtual environment.
The Launch & Learn Labs Startup Academy is a startup/biz development training series being offered as a part of the I85 Cyber Corridor Initiative.
Virtual Training Platform: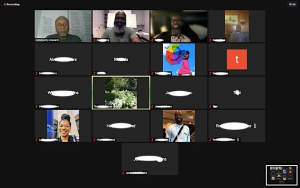 Each of our powerful 13-weeks business training workshop series brings a scientific method approach to the business development process of gaining customers & growing your business.
This data-driven methodology has fueled hyper-growth for companies across the U.S. and the entire world. This course explains current industry best practices for delivering products and services to market, and offers practical insight on how to
Discover and Develop Customers rather than searching for that "hard to find" start-up capital from traditional banks and lending institutions.
Become more PROBLEM-Centric not PRODUCT/SERVICE-Centric because very few people and organizations care about your product/services/business but are primarily concerned only about THEIR PROBLEMS!!
Monitor/Manage the Customer & User Experience while becoming a DATA-CENTRICLY DRIVEN BUSINESS.
Discover why one of the best times to launch a startup is WHILE STILL BEING ENROLLED AS A STUDENT or STILL WORKING YOUR FULL-TIME JOB!!
Why participate in the I85 Cyber Corridor Initiative training mini-series and what qualifications do their trainers & instructors bring to the process?
Over the last 9+ years I85 Cyber Corridor trainers/instructors have formally trained and mentored 450+ regional entrepreneurs through our initial 13 weeks program.
I85Cyber.org I and its Launch & Learn Training Program(s) recognized as a "Notable Startup Organization" by AlabamaINNO Magazine – "The Alabama ecosystem at a glance"
To learn more about the "science behind" our startup training methodologies visit:
L&L Labs Entreprenurial Mindset
So, what differentiates the Launch & Learn Lab's training programs from other entrepreneurial training program offerings throughout the Southeast?
A "HEAVY" focus upon the process of customer/user DISCOVERY, DEVELOPMENT, tracking the EXPERIENCES rather than focusing upon the particulars of writing a masters thesis like document better know as a business plan.
Training sessions are led by "full-time"- still in the game of capitalism – entrepreneurs.
Learn how to NOT continuously have to travel and operate along the proverbial biz pitch competition circuit BUT rather to engage in the ongoing pursuit of credit card wielding/cashing holding/check writing/cryptocurrency possessing "PAYING CUSTOMERS" and experience investors pursuing your startup/firm.
For entrepreneurs who DO DESIRE to participate in the AU Tiger Cage Pitch Competition, Alabama Launchpad like competitions or pitching to angel/venture investment groups, our training framework works well as a preparatory platform.
PRICING/COSTS OF TRAINING SERIES:
The "stewards" of the I85 Cyber Corridor Initiative are often asked about the "pricing
model/costs" associated with our training offerings. Our current posture is that NO
CURRENT/PROSPECTIVE ENTREPRENEUR should have to pay for training that empowers them to be more successful, generate more revenue, employ more people, etc but that costs associated with the training should be passed along and shouldered by parties and organizations who benefit from the additional tax revenue, employed citizenry and the additional economic development prosperity of the geographic region.
Captions from efforts conducted by the research principals of the I85 Cyber Corridor Initiative with whom Launch & Learn Labs have previously partnered.